The safety issues highlighted by the closing of the Olympic Games must not be taken lightly!>
On the morning of the 21st, the Chinese women's volleyball team defeated the Serbian team 3:1, and the Chinese flag was raised again in the Olympic women's volleyball team after 12 years! At this point, the Brazilian Olympic Games officially came to an end. The closing ceremony of the Brazilian Olympic Games was officially held at 7:00 am on August 22, Beijing time.

Honor has excited the people of the country, but once again, the Brazilian Olympic Games are still in the air. They must not only face the intense competition, but also worry about local security problems that may occur at any time. Borrowing a message from netizens, it is "this Rio Olympics, toxic!"

In fact, as early as the beginning of this year, the security issue concerning Brazil has never been interrupted, which has aroused the close attention of people around the world. Zika virus raging, water pollution in competition venues, floating corpses found in sailing venues, and even when the Olympic flame was passed, there was also a scene in which a man rushed into the crowd and took a fire extinguisher against the flames, which showed the Olympic security work. Instability. Finally, even the platform mascot Juma, who was trying to get rid of the escape, was killed by the soldiers on the spot.

After the athletes and tourists from all over the world arrived in Rio, the "toxic gas" of Rio began to focus on the outbreak.

These really made us feel a cold sweat for the Olympics. Security issues have become the target of public criticism. At the same time, in the hardware industry, security issues have also been widely concerned.

For the safest top solid hardware locks, Dinggu Hardware, since its establishment in 2002, has been specialized in the production of hardware locks for more than ten years, and has been pursuing the corporate tenet of "top solid, let you rest assured", striving to create the most for consumers. Good hardware products. Its intelligent door lock 15 series uses the bank-specific Swedish fpc fingerprint sensor, which has superior anti-password leakage technology and is extremely safe. When there is a malicious person trying to test the password and arbitrarily adding the dummy password, the door lock will be automatically locked; if the door is not closed, the battery is insufficient, the password is entered incorrectly, etc., it can also sound a warning tone to ask the owner for help; Coupled with the original anti-saw anti-smashing and anti-collision three anti-lock body technology, it gives the intelligent door lock a strong self-protection ability.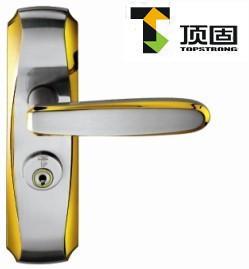 Product parameters:
| | |
| --- | --- |
| model | AS5751-ZC303399 |
| name | Top solid hardware door lock |
| species | Handle |
| MOQ | 1 |
| Material | Zinc alloy |
| Brand | Top solid |
| characteristic | Stable performance |
| Reference Price | ¥219 |
【

Ernte | Table Grill,Table Grill BBQ,Indoor Bbq Grill Table,Portable ElectricTable Grill BBQ,Portable ElectricTable Grill BBQ

SUN YAT INDUSTRY LIMITED , https://www.ernte-eu.com