China's smart lock market consumption insights and development opportunities analysis>
The golden era of consumer upgrading has come. People's willingness to consume under "consumerism" has become stronger and stronger, and the importance attached to life styles has increased significantly. As a part of the quality home, smart door locks have also attracted attention in recent years. What is the current state of development of the smart lock industry? What are the expectations and concerns of consumers for smart door locks? Under this environment, what are the opportunities for smart door lock brand owners? This article will discuss one by one.
Research Description
Smart door lock concept definition

The term "smart door lock" refers to a lock that is different from traditional mechanical locks and is more intelligent and simpler in terms of user safety, identification, and management.

The scope of this report is limited to consumer-oriented home-based smart door locks, excluding business scenes such as hotels.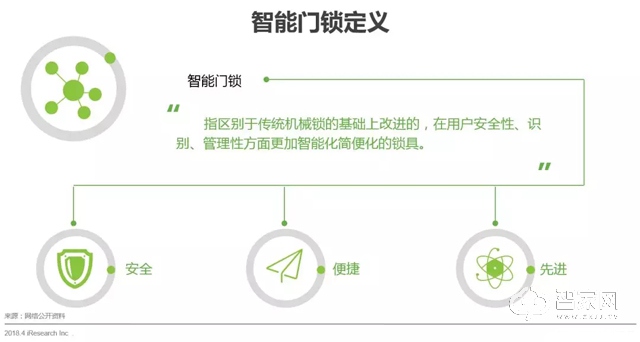 Smart lock industry background analysis
Consumption Background 1: China's Consumer Trends Stable

In 2017, the total retail sales of social consumer goods exceeded 36 trillion yuan, with a growth rate of 10.2%. The Chinese consumer market has been growing rapidly in terms of stability.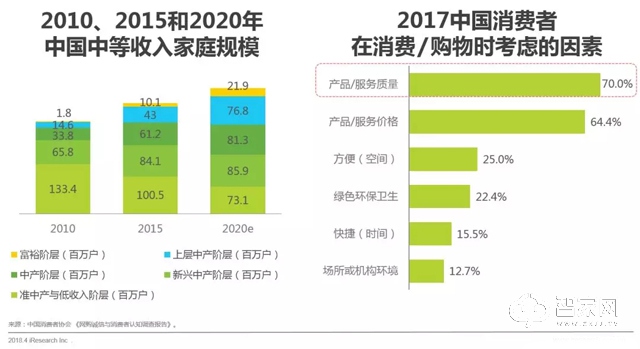 Consumption background 2: The trend of consumption upgrade, smart door lock industry is full of opportunities

The rapid growth of the middle class and consumers' pursuit of product quality, promote the quality of life in-depth life scenes, giving smart door lock sales opportunities.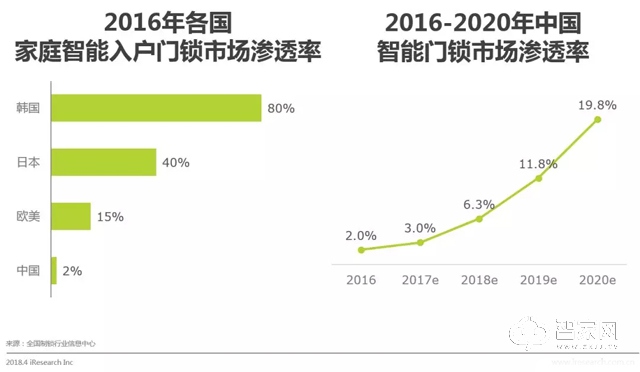 Industry Environment 1: Current smart door locks have a low penetration rate in the consumer market, and there is more room for market improvement.

In recent years, the smart lock consumer market still maintains a low penetration rate. However, as consumer education continues to deepen, the market penetration rate after 2019 is expected to exceed 10%.

Industry Environment 2: Smart Lock Market Has Big Potential

In 2017, the overall sales volume of the smart door lock industry is expected to be about 7 million sets, which is a 1 fold increase from last year. Consumer demand for smart door locks is growing faster.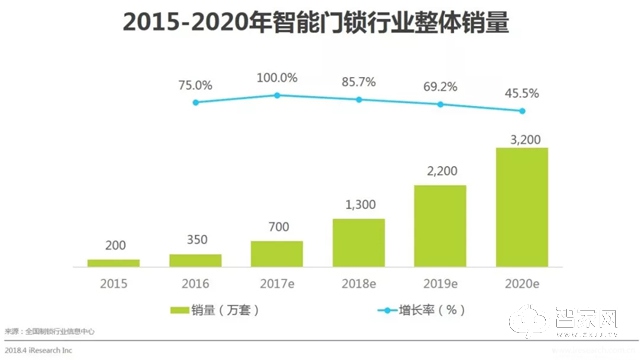 Competitive Landscape: The Brand Concentration of Online Smart Lock Market Is Low

The brand of online smart locks is highly decentralized, and the head brand concentration is less than 50%. The online smart lock market has not yet formed an oligopoly pattern.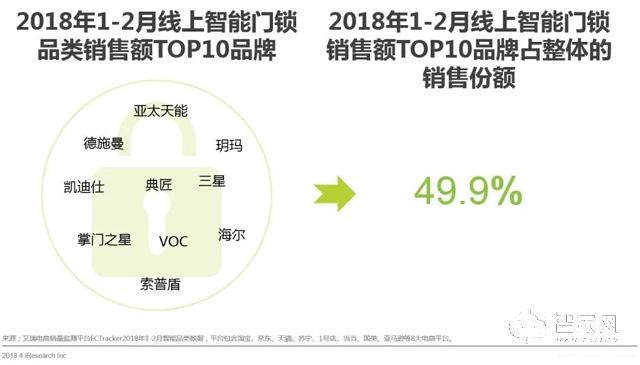 Consumers' expectations and concerns about smart locks
Who is a potential consumer: Highly educated young and middle-aged people, mainly from first-tier cities, work in enterprises and institutions, and middle and upper income levels

Prospective consumers are male (53.5%), undergraduate (68.8%), younger (more than half are under 35 years old), and are from core top-tier cities such as Kitakami. In addition, a total of 59.7% of potential consumers work in enterprises and institutions, and 47.5% of potential consumers have a monthly income of 5000-9999, which has a certain spending power.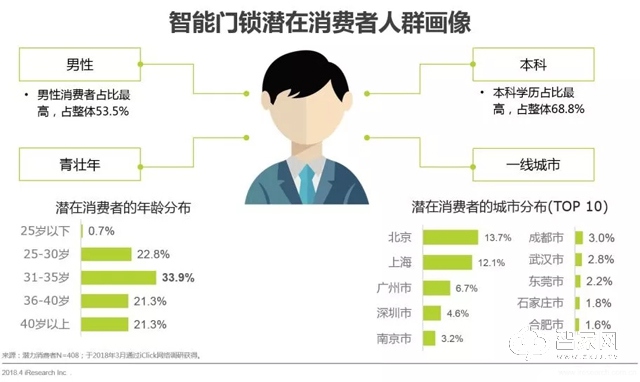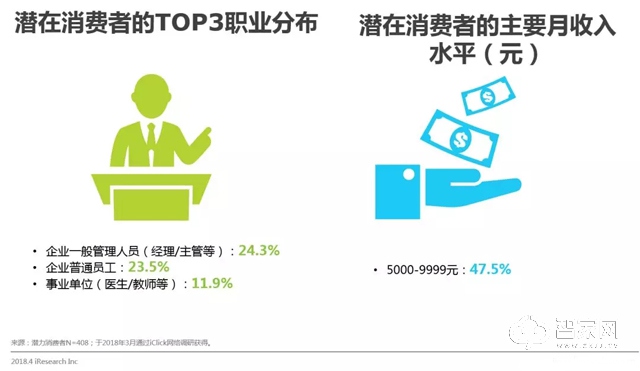 Potential consumers' expectations 1: Convenient, safe, and thoughtful service

According to the analysis of hot-selling smart locks on the line, convenience, security, and thoughtful service are important features of product sales. Smart door lock brands need to meet the functional needs and service needs of consumers at the same time in order to win the hearts of consumers. .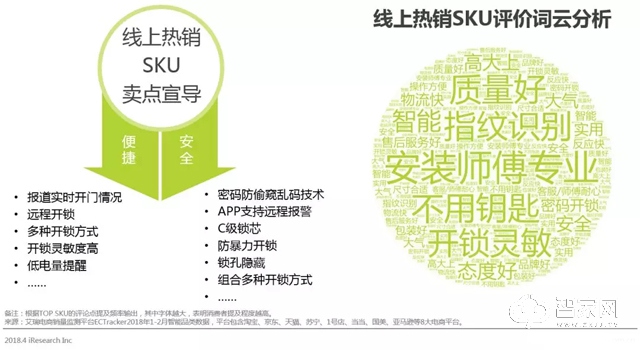 Expectations of potential consumers 2: Time-sensitive services are more concerned

Consumers need timely and intimate installation and maintenance services, both of which are more than 60%.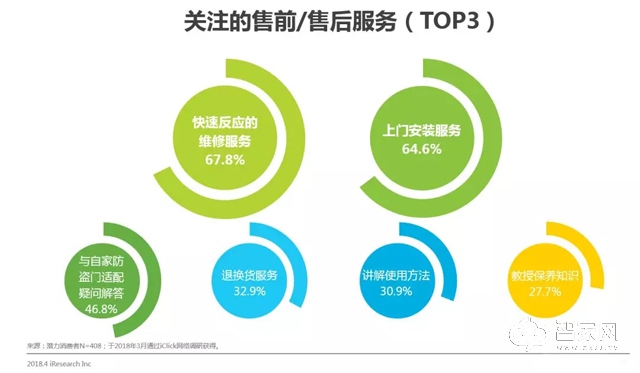 Potential Consumer Concerns 1: Product Safety Becomes a Top Concern for Consumers

As a door lock, security is still the most concerned factor for most consumers, and it is the primary consideration for most consumers to purchase smart door locks.
Potential Consumer Concerns 2: If you want to develop the online consumer market, eliminating consumer concerns about online channel services is a top priority

Among consumers who did not plan to purchase smart door locks online, 63.8% of people worried that the services of online channels were not perfect and similar to the services that consumers were concerned about. Installation/maintenance was their most worrying aspect.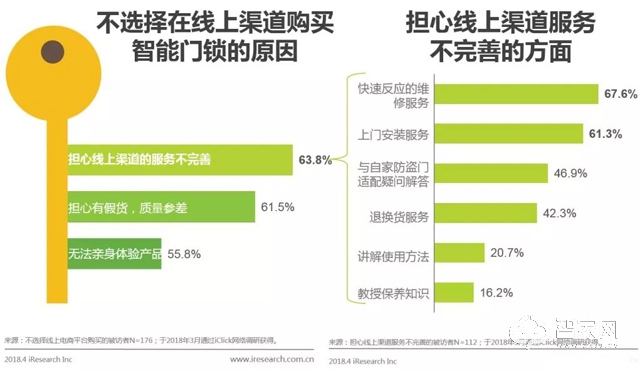 Smart Lock Brand Development Opportunity Analysis
Opportunity 1: Strengthen a variety of biometric technologies in landing smart door lock products

There were 79.2% and 62.6% of consumers prefer fingerprint unlocking and face recognition unlocking. Biometric unlocking with high convenience and safety won consumer preference. Fingerprint identification technology has been popularized in smart door lock products. However, currently the application rate of face recognition technology is low and it needs to be further landed in smart door lock products.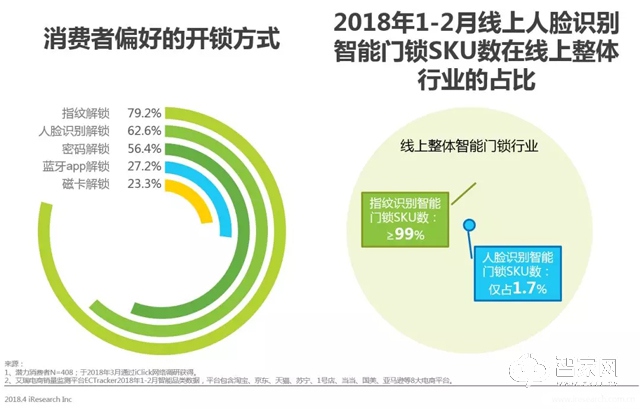 Opportunity 2: Excavate and cater to consumers' purchase of smart locks

For example, 65.4% of consumers expect to replace smart door locks while replacing security doors. Brand owners may consider collaborating with anti-theft doors to help promote consumer purchase decision-making processes and meet consumer buying habits.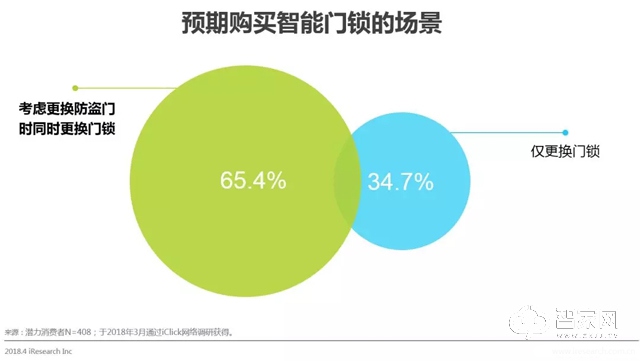 Opportunity 3: Improve after-sales service system and create marketing highlights with caring service

Most potential consumers pay great attention to the installation and maintenance of smart door locks. Brand owners focus on providing high-quality after-sales services and reduce the purchase barriers for consumers.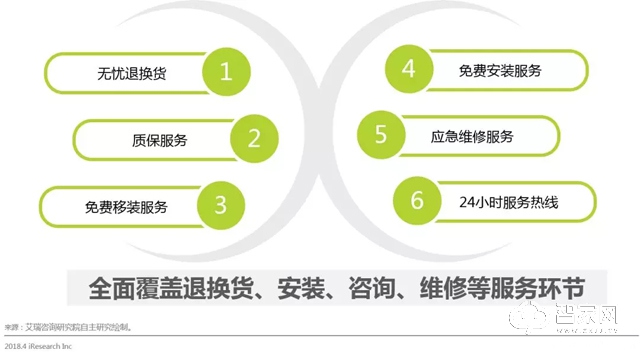 Dust Catcher Combo,Laser Dust Catcher Combo,Laser Level Tools,Laser Level Drill Dust Catcher

SHAOXING SUNWAY TOOLS & HARDWARE IMPORT & EXPORT CO.,LTD , https://www.sunwaytools.com